$15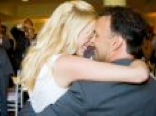 If you are here because you are considering learning how to dance for your wedding, you've come to the right place! I provide a variety of options to fit every schedule and budget. Now it's just a matter of dreaming up your perfect first dance…
Want to put on a show? I will choreograph an entire show routine to the song of your choice and teach you the skills necessary to execute it well. Want to keep it simple? I will teach you the basics of partner dancing so that you can dance confidently at your wedding and at any events you may attend in the future. The choice is all yours.
Come in for a consultation and introductory lesson so we can design your ideal dance. For only $15, we will talk about your vision, listen to your song, talk about the venue, and go over other logistics regarding your dance. I will then teach you a couple of steps so that I can get a feel for how quickly you learn and what teaching style suits you best. More importantly, you will become familiar with how I teach and whether or not you feel we are a good fit. Your wedding day is one of the most important days of your life, and I want to make sure that you feel confident about your choice of dance instructor.
This 30 minute session is not part of a package, and you certainly do not need to make a decision on the spot. Request an appointment today! Slots go pretty quickly, so put in a request for a reservation as soon as you can. I will always do my best to give you the exact day and time that is best for you.